Renata and Natalia de Dalmas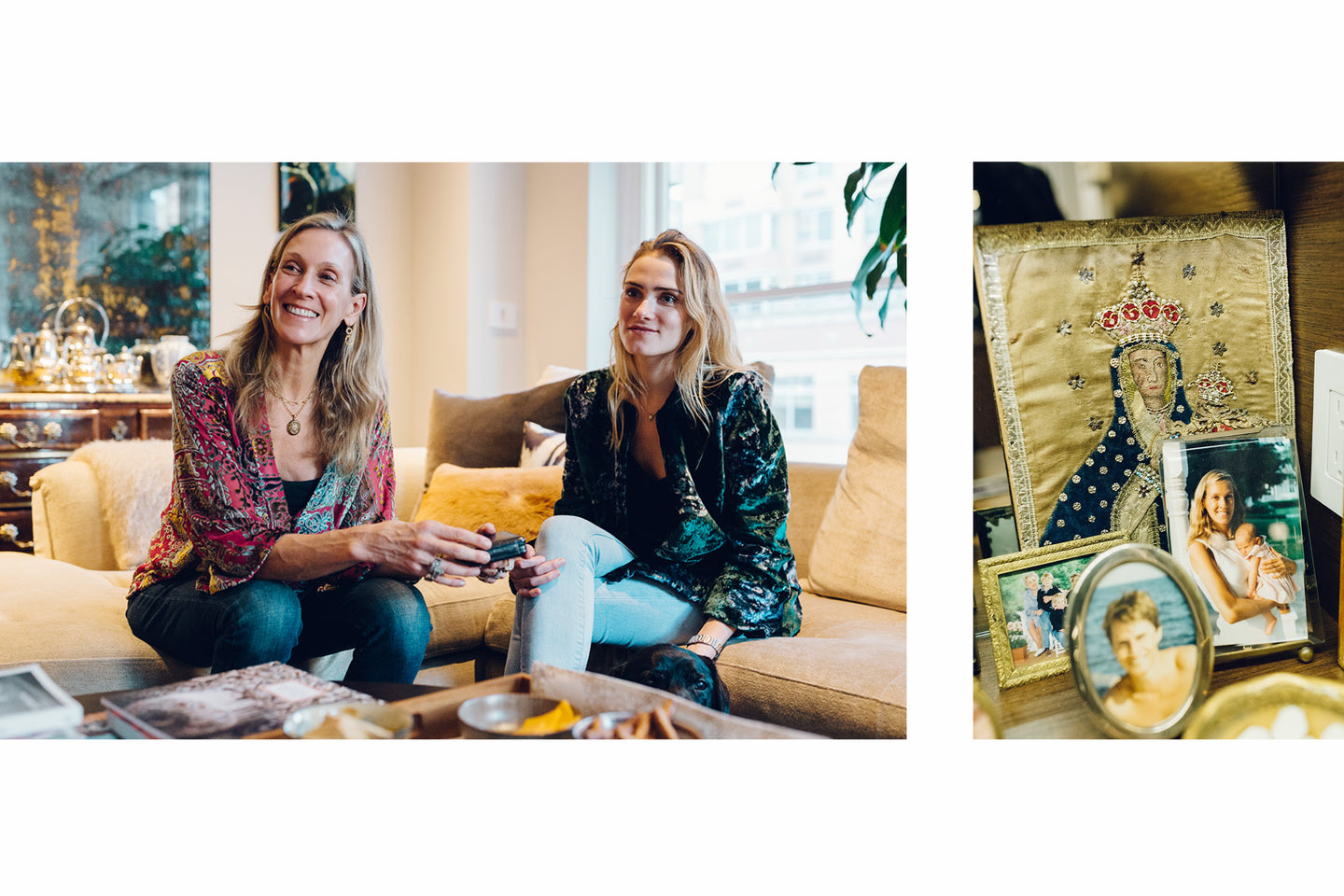 R E N A T A   A N D   N A T A L I A   D E   D A L M A S 
   Sorting through the exquisitely beautiful jewelry and antiques at the home of Renata de Dalmas instantly transports you to far corners of the globe, and to centuries past. A lover of history and an extensive traveller since birth, Renata's eponymous jewelry collection, Renata de Dalmas, weaves in influences from ancient culture, both in her metalsmithing techniques and symbolic design elements. With family roots in Poland, a heart that beats for India, and a husband from France, Renata is truly a woman of the world. Today she splits her time between Manhattan, Shelter Island, and France, where her eldest daughter and baby grandson live.  Renata and her daughter Natalia, the youngest of four, walk us through the incredible antiques that tell the story of their family history, and fill the walls of Renata's Manhattan home.
aw
"I have so many special pieces from my family in Poland, from my husband's family in France, and from my travels to India.
This is an antique mourning ring from 1823. It's made in gold and black enamel to remember someone who died, and it holds a piece of their hair inside. If it had been a child that had died, it would have white enamel. I found it in Jaipur, I wonder who it belonged to...
I also have a poison ring!  It was given to me by a friend of my mother in law's because it's an antique Polish piece. It's two snake rings that fold in together with 1 horse hair, and you can slip it open and put poison powder inside. I can't even imagine how old it must be!
My husband's
 grandmother Marguerite gave me this diamond bracelet. She was an only child so she inherited all of the family jewels from her mother, Maire Claire, and would pass one down to me with each child I had. Why do you think I had four kids?!
This is a golden tooth from -- I don't know?! -- some ancestor!
An artist used to own this apartment, so she created tons of shelving for displaying art, and I love putting up our old pieces so we can enjoy them. Look at this old helmut! All of these hidden gifts with stories from the past.
We have to leave one shelf open for the cats, Jade and Romeo.
My family has a lot of history in India, maybe that's why I've been drawn to go back and create jewelry there.  In the 1930s the Polish people got sent to Siberia, and my parents who were children at the time, were sent as war refugees. My mom went from Iran to Lebanon to England, and finally to the US. My dad was in a refugee camp in India for six years, until he was 17. My parents still go back to India for the reunions of the refugees.
This is an old enamel watch I brought back years ago.
I found this passport holder in India too. Isn't it amazing?! Look at the details. They don't make things like this anymore.
The first piece of good jewelry I ever got were these Indian earrings I bid on at Sotheby's when I was 25. This is the beginning of how I became fascinated with designing and making jewelry.
We have a Polish tradition in my my family, passed down by my parents on Christmas Eve. You always leave an extra plate on the table, open for anyone who doesn't have someone to go for the Holidays. And it always gets filled! When I was little the Pakistani owner of the Deli down the block would come join the table, and now at our house in Shelter Island, we are always hosting friends who are single, or maybe don't have family near by. It's a beautiful tradition.
There's also a ritual of getting 'oplatek', it's like a Polish wafer that you buy and break up into little pieces, and then everyone gives a piece to all of the other people at the table, and with it, whispers them a wish or blessing." - Renata de Dalmas
  Photography by Yumi Matsuo