Daniella Kallmeyer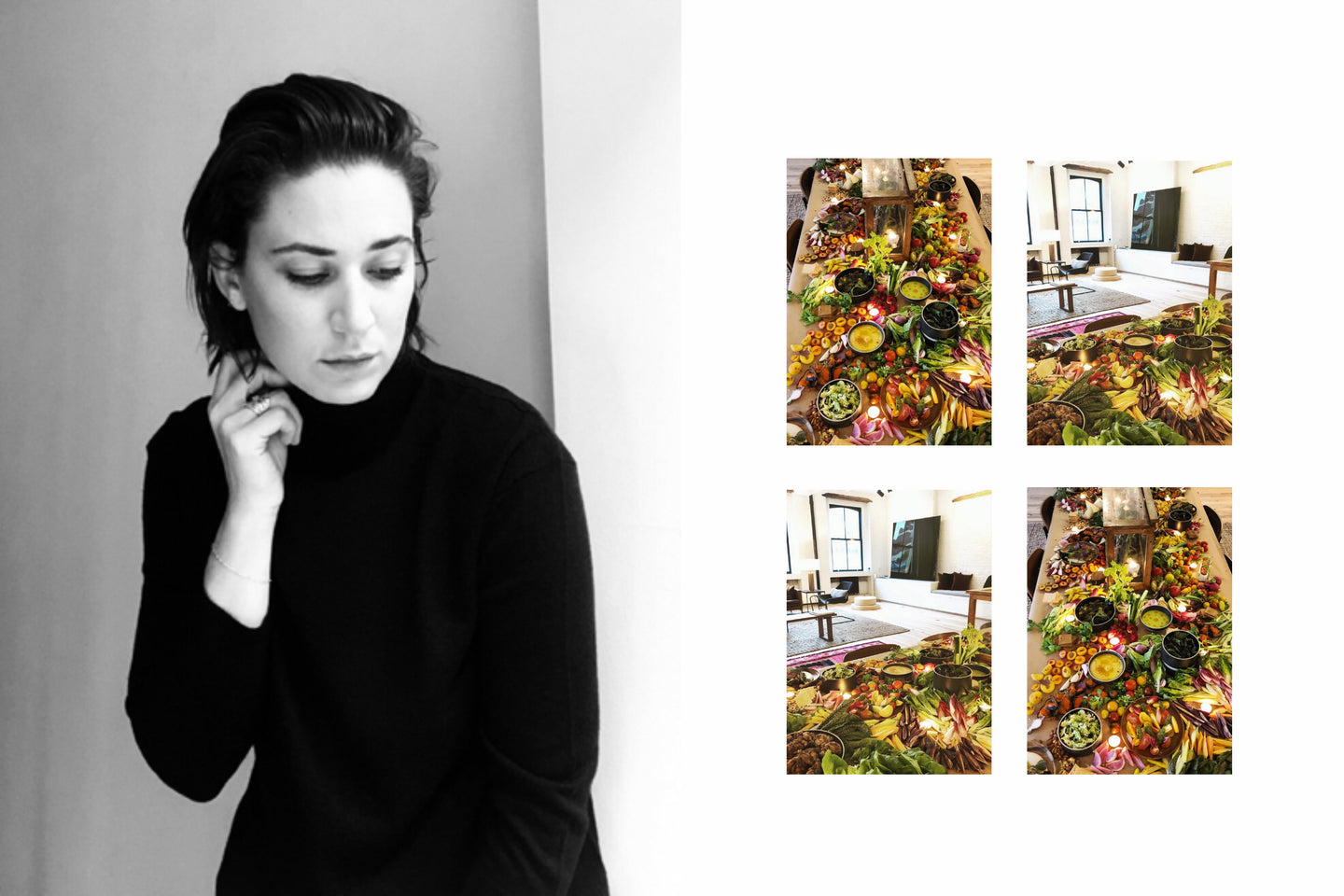 D A N I E L L A   K A L L M E Y E R
At Zahava, we think of true "luxury", as ethically-made pieces, with soul and personal story. In the ready-to-wear space, no one embodies this spirit more beautifully, than Daniella Kallmeyer, founder of her eponymous collection KALLMEYER.
The South-African native describes herself as "an explorer - searching for truth, beauty, and moments of awe and confronting them in her craft." Those who know her well know that this craft expands well beyond the world of fashion -- this girl throws a pretty stellar dinner party.  Specifically, Daniella has re-claimed the ancient ritual of Shabbat with "Shabboscapes", beautiful, low key pop up Shabbat meals where Daniella curates her signature tablescapes: Craft paper covered with colorful, textural, and artfully placed ingredients to make for the most beautiful and inviting meal. 
Tell us about This Meal You Hosted! What was your intention for hosting it and what went down?
"I started hosting community meals years ago when I realized I wouldn't be able to spend every holiday with my immediate family and I was building my own in New York. The first year I made my grandmother's brisket recipe and my mother's matzo ball soup - a bit of old tradition to anchor my new ones. I set the Seder table for 15 friends, who each brought their own experience to share, or lack thereof. With more intimate shabbat dinners bringing us together in between, the next year we crammed 30 friends -- and friends of friends -- into my upper west side apartment. 'I don't care how we do it, but we're finishing this seder' and by midnight we were banging on tables singing, telling stories, and holding our full bellies. Few things give me as much heart warmth.
Our theme this month is

 

Renewal, inspired by the Zahava Protea Token. How does the notion of wisdom connect back to the spirit of your dinners?
This year was the tenth anniversary of my first FriendSeder in New York so I really did it up with friends new and old. I really dug into my recent spiritual learning, bringing in as much interpretive commentary and storytelling I could share throughout the meal so everyone could find themselves in the meaning of the evening. I really connected to the themes of freedom that Passover brings out, understanding, sharing, and growing from freedom from inner enslavement, inner turmoil, and spiritual liberty. What could relate more to renewal than a whole new phase of life and a new season to go with it.
Daniella layers her Protea Token with her other heirloom pieces.  
Why do you make the extra effort to host folks in a home, as opposed to just meeting friends at a restaurant or having people over for drinks?
I grew up more religious than most of my friends, so traditionally I wouldn't have celebrated Jewish holidays in a restaurant - we would gather with family, friends, neighbors, cousins. Religion aside, those familial memories feel really nostalgic for me, and creating opportunity to maintain my traditions in a modern way that also was welcoming and not intimidating and inclusive has been a key part in building community and having a constant that could feel new every time.
Hosting at home can feel daunting, you think: I don't have enough space, my dishes don't match, I don't know how to make chicken, where do I hide my unopened mail?! How do you get over these kinds of hangups and just…host?
I have definitely felt those hangups when I've downsized apartments or in general never want to turn anyone away and simply don't have the space. That's actually how @Shabboscapes came to be. I literally didn't have enough plates and silverware to accommodate the number of people who wanted a place to experience shabbat. So I started serving finger foods and that transitioned into grazing tables. In the end it gave me the flexibility to include more people with a casual non sit-down feel and keep eating and socializing longer.
What tips do you have for making an intimate meal feel special without feeling like you have to go overboard or spend a ton of money?
Farmer's markets and Trader Joes!! Fresh fruits and veggies go such a long way and look beautiful. Crackers and dips - but always re-plate them from their containers! Add your own drizzle of olive oil or garnish. Color makes such a difference and isn't expensive to achieve. Charcuterie or cheese plates…frozen hors d'ouerves if you don't cook. Add your own touch. And fresh flowers!!
How do you respond when guests ask "What can I bring?" (if you weren't allowed to say 'Yourself!') What would you actually want them to bring?
I like having control over the meal, so I always encourage people to bring wine or a beverage of their choice. Everyone's always happy to, and it saves you the most expensive part of hosting.
How do you think about what to wear when you're the host?
Ha! If I even have time to change….I have some romantic notion about gliding around in a silk kimono. It feels very decadent…very Paris in the 20s or something.
How do you create a feeling of intimacy with a larger group or when inviting people who don't know each other? How do you get the vibes going?
Food brings people together, which is why I love having the 'shabboscape' be a central feature. I also like to encourage a conversation or moment for sharing when I can. It's usually around the energy of the week or something that offers meaning to the rituals of shabbat. It doesn't have to be spiritual, just sharing positivity from the week or wishes for the following, it makes every week about renewal.
Our Zahava candelabras were crafted to create a centerpiece to anchor an evening. Do you have any special objects that do this for you?
Not so much an object but my shabboscaping! People have come to expect it. Now even just a small gathering I'll do a lush platter. Fruits, nuts, cheese, crackers. A cornucopia if you will. I love the idea of inviting people to a luxurious experience even if its just $25 worth of pickings.
What's your oh-shit recipe -- easiest thing to make/crowd pleaser? And how to make it?
Poached Salmon lettuce wraps! Butter lettuce cups, A whole salmon (which you could make any way) I usually do a mustard and marmalade glaze. The whole thing takes 20 minutes and people serve themselves.
What family recipes or traditions (think: heirlooms) do you tap into when you host? If this doesn't apply, then what personal recipes/traditions have you started as a host?
Matzoball soup FOREVER! And my grandmother's sweet brisket. I've personalized my family's soup recipe by throwing in parsnip and jalapeño. A little sweet and spicy kick!
How do you get people to put away their phones, take a break from constant networking/work talk, and surrender to the present moment? How do you create an environment that allows people to relax and refuel?
I invite really good people. People who I know will value moments like these. People who Ive thought of intentionally to connect to each other or will bring something to the experience. I think it happens naturally if the experience is authentic and meaningful.
Let guests help you clear the table, yes or no and why?
Not usually. Maybe help gather plates. I like the evening to feel like it could go on as long as people want. But the grazing table is so easy to wrap up and toss…I put craft paper down and sometimes I don't even use platters.
Favorite thing to do with leftover food / alcohol?
Leftover alcohol gets carried over to the next dinner - or regifted the next time Im a guest. Leftover food I usually send home with people or invite my closest friends over the next day for lunch.
What's a favorite memory from an epic dinner party you hosted or attended?
Im going to have to go with the late night grill feast upstate at a very healing and connective weekend. We had watched the bright warm sun set straight through the windows of this beautiful house as we awaited the arrival of the final guests. The late night home cooked midnight meal was just what European vibes and New York goals are made of.
What's the ultimate sign of a successful dinner party?
A lot of texts in the morning. Not because I need the thank you's - gratitude is just contagious, but it means we created a feeling that people still could wake up with in morning. Gratitude, joy, full bellies, connection. Life's most delicious recipe."