Felicity Sargent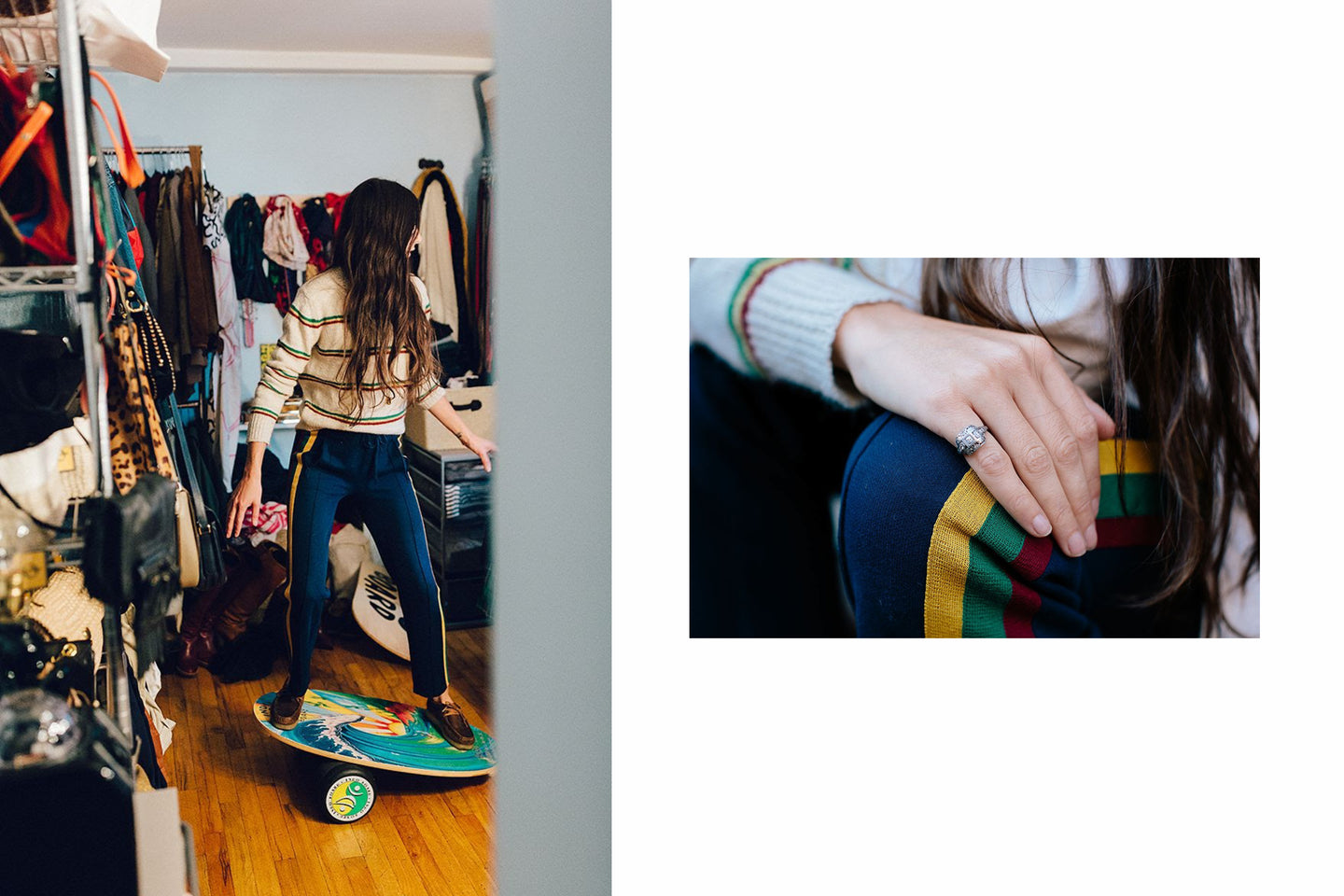 F E L I C I T Y   S A R G E N T 
Walking into the home of stylist and writer Felicity Sargent feels like an instant escape from the here and now. Past the oh-so-inviting red front door, her relaxed Vermont upbringing permeates the walls of the space, bringing a welcome calm, constant peels of laughter, and a sense of wonder. With her undeniably original lens, Felicity's work has captured the attention of clients like Vogue and Jeffrey to name a few. It's no wonder that piecing through Felicity's personal vintage collection with her reveals her unique connection to each piece, bringing her a joy that is infectious -- from epic couture from the 80s to $1 street earrings she picked up last week. Here, she shares with us some of her favorite family heirlooms, and the rituals that keep her Vermont spirit alive in New York City.
"I have so many heirloom pieces that have been passed down. Too many! My favorite  are these Dior sport jumpsuits that were my mom's in the 80s, but I'm really bummed, because I lost all of the colorful ones in college. I did manage to salvage this white one that's pretty dope. 
My first Valentine's Day present was a ruby necklace -- my birthstone -- from my dad.
This was my dads when he was a kid, and his friend's all signed it. They called him 'Sarge'. 
In terms of rituals -- I've been riding horses since I was four. I grew up on a sheep farm, and we had all of these trails that ran through our property and I would watch people trail ride. That was my first exposure to horses and ponies.
It's a blessing and curse because it's a lifelong relationship, and you get really competitive -- I think a lot of solo sports are like that where you get so competitive and then you reach a certain age where you realize you aren't going to make this your career, and then you have this moment where you're like: Okay now what?
Today, I leave the city about once a week to go out to Connecticut and ride. 
This was my first championship ribbon with my horse, Dolce Victoria in 1998.
And this tattoo. Oh my God this is the cheesiest! So I was "tipsy" and emotionally got this tattoo after my horse passed away. It was her show name.
Everyone said it was a hipster tattoo because it faces inwards. 
To unwind, I love to listen to GRIMES and indoboard out. It just kind of centers you. It's really relaxing, genuinely, once you get into it. We used to do it in ski team."
Photography by Yumi Matsuo